Thomas Anderson Cemetery (aka Traylor/Anderson)
Located in Bear Creek Township of Christian County, approximately 2.5 miles north and .5 miles west of Palmer, Illinois. This cemetery is currently well cared for and still in use.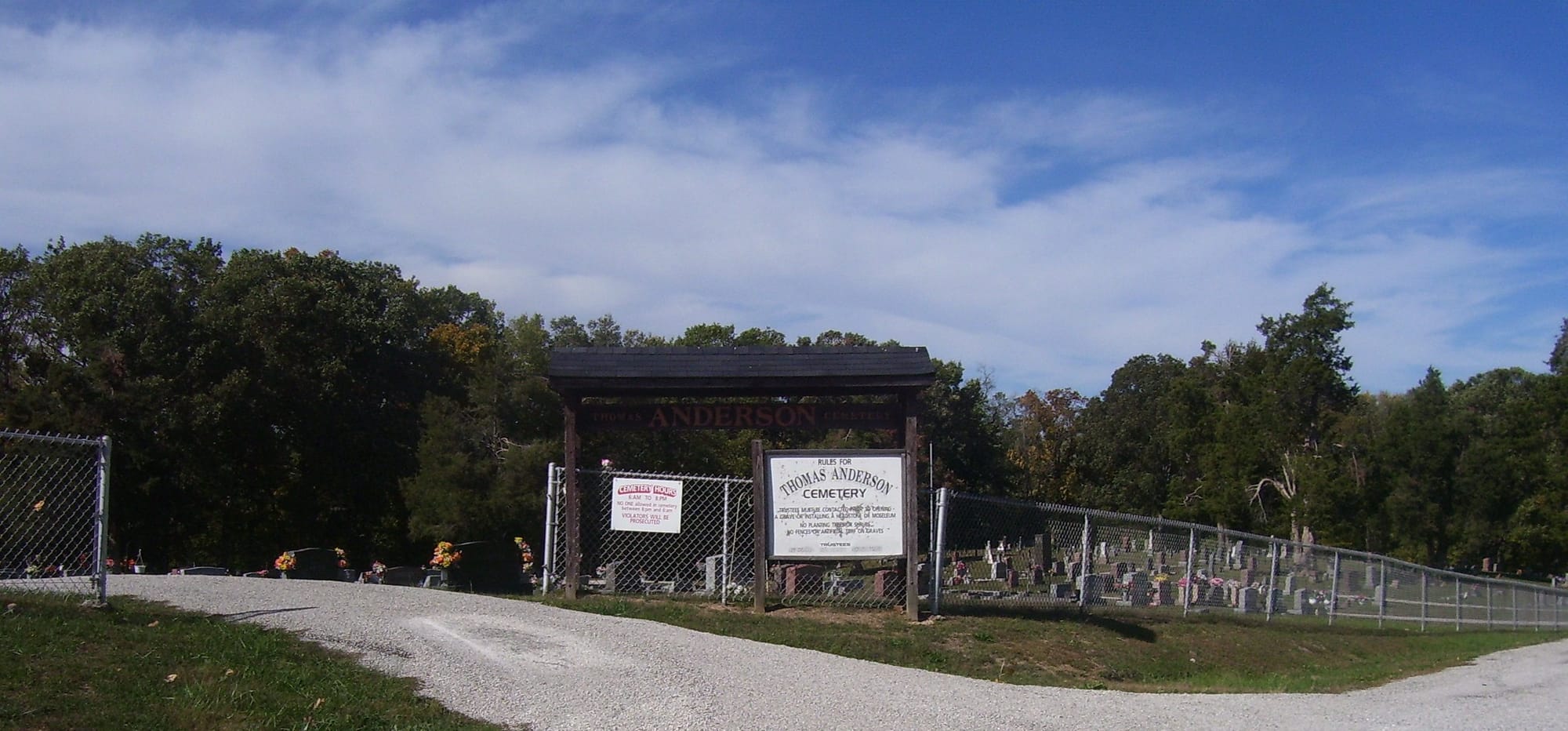 Cloyd Cemetery
This abandoned cemetery was once trodden by cattle in it's Bear Creek Township location in Christian County, Illinois. The current land owner has erected a fence to keep livestock out of the graveyard and has attempted some clean up and repairs. Like many other prairie cemeteries, without constant tending, it has once again become over-grown and many stones noted in an earlier DAR reading were not found.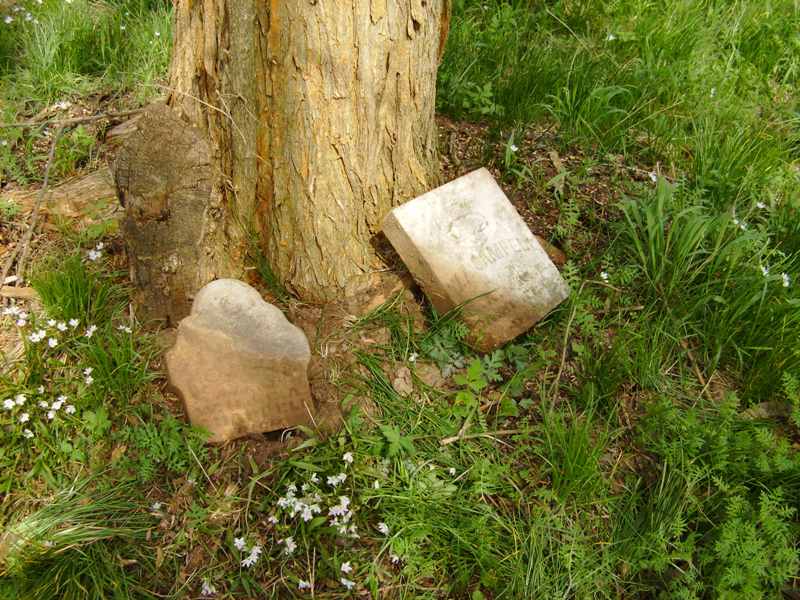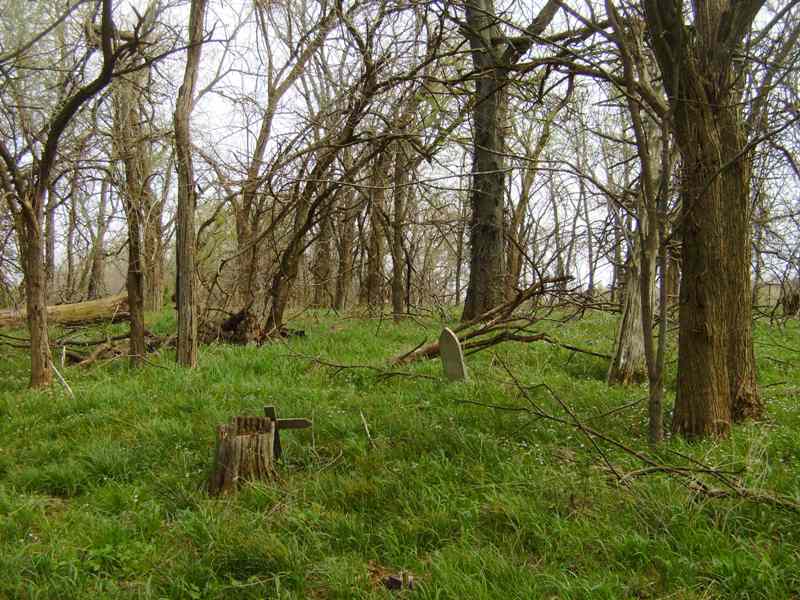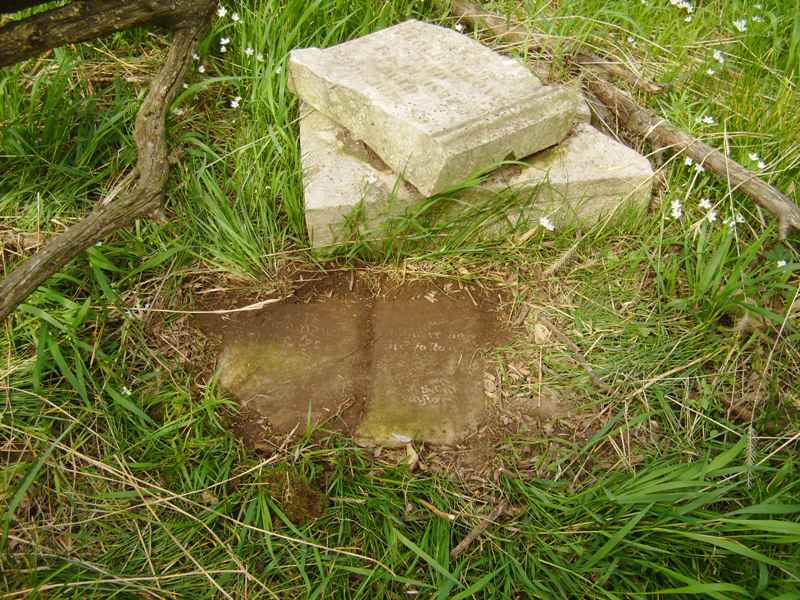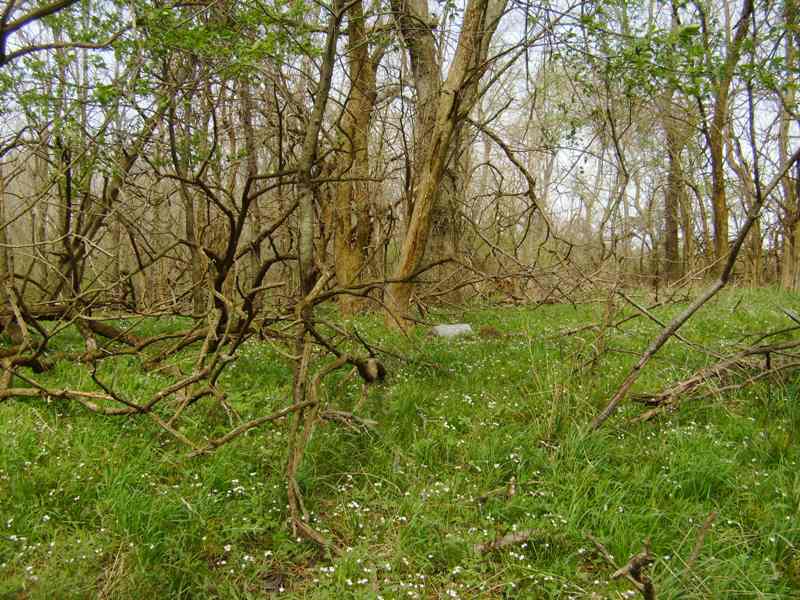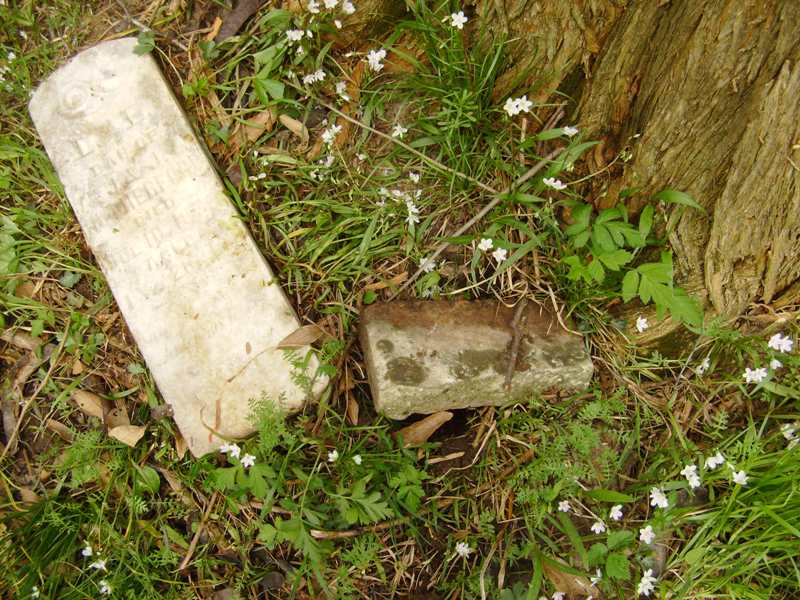 St. Joseph Cemetery (aka Durbin Cemetery)
Located approximately 2 miles north of Palmer in Bear Creek Township of Christian County in Illinois. This cemetery dates back to before 1900 with burials as recently as the mid-1980's. It is fenced and grounds are tended, but few stones remain. When we went to the first Catholic burial ground in Christian County we found this plaque had been erected: "The original land on which this cemetery lies was recorded on June 13 1836 by Elizabeth Durbin, wife of Joseph Durbin Sr." Records show that John Durbin was buried on this land in 1831 and Joseph Durbin Sr. was buried on this land in 1836. The land was later passed on to Joseph P. Durbin (Squire Joe), his son. This land was later sold to Elijah Duncan, all but one acre which was reserved to be used as a cemetery, which on March 21, 1859, was deeded as the Durbin Cemetery. On October 17, 1943, the name was changed to St. Joseph Cemetery. A committee was formed to maintain the cemetery through donations made by family and friends of those buried here. Memorial donated by Paul & Marilyn Durbin. The cemetery is enclosed by a fence and has an handsome brick entrance. Read 1 November 1990, Harold & Rosella Brookens.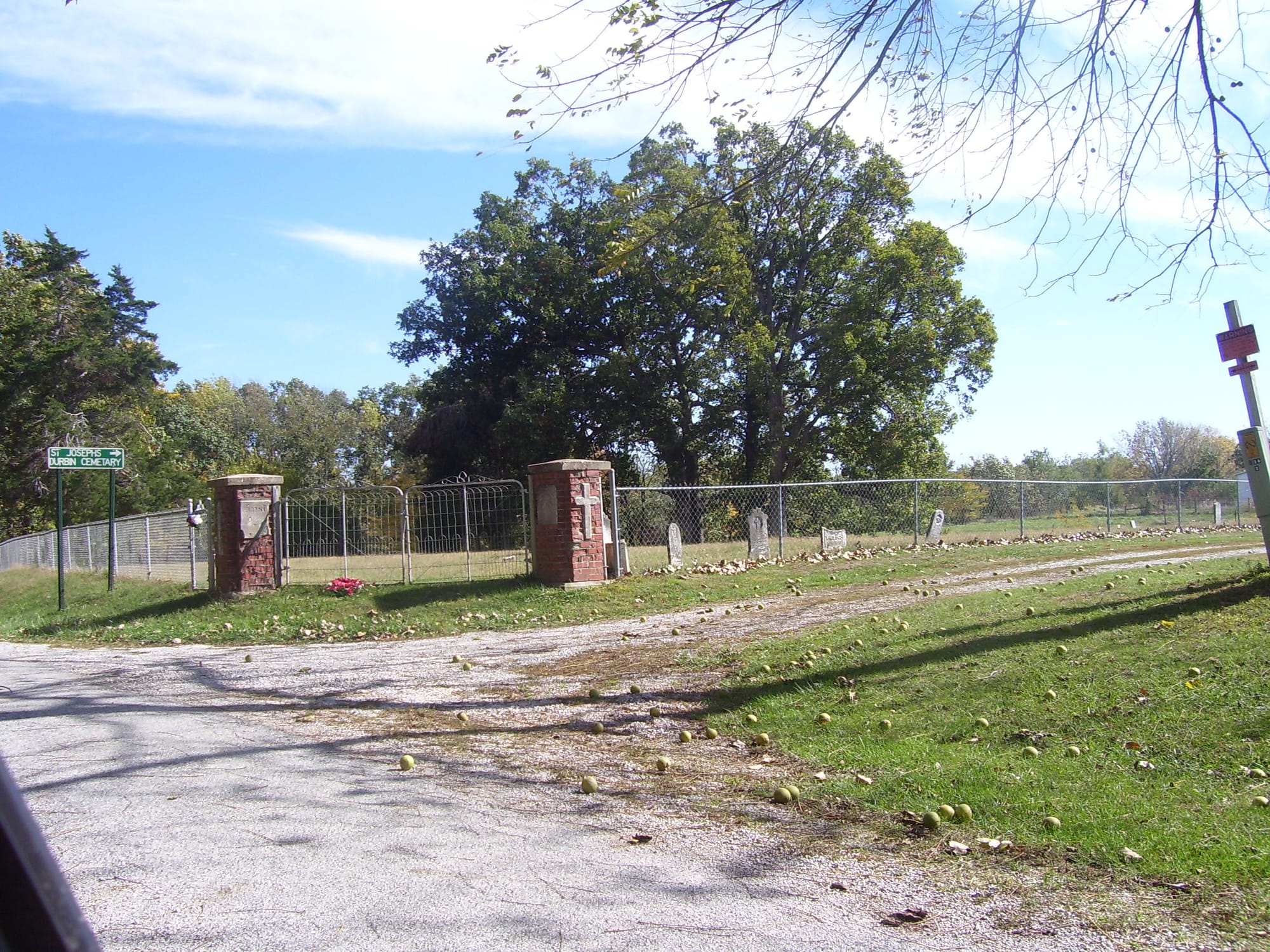 Harper's Ferry Cemetery (Palmer)
Located near Palmer in Bear Creek Township of Christian County in Illinois. This cemetery is very old and off the beaten path, but still in use and presently well cared for. Some of the oldest stones are in need of repair and one large bush has several displaced stones under it.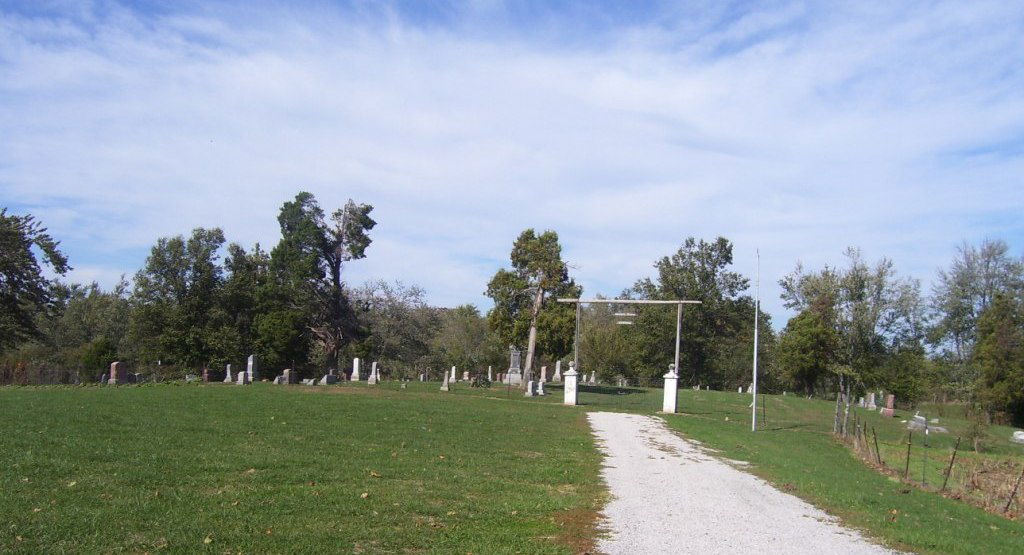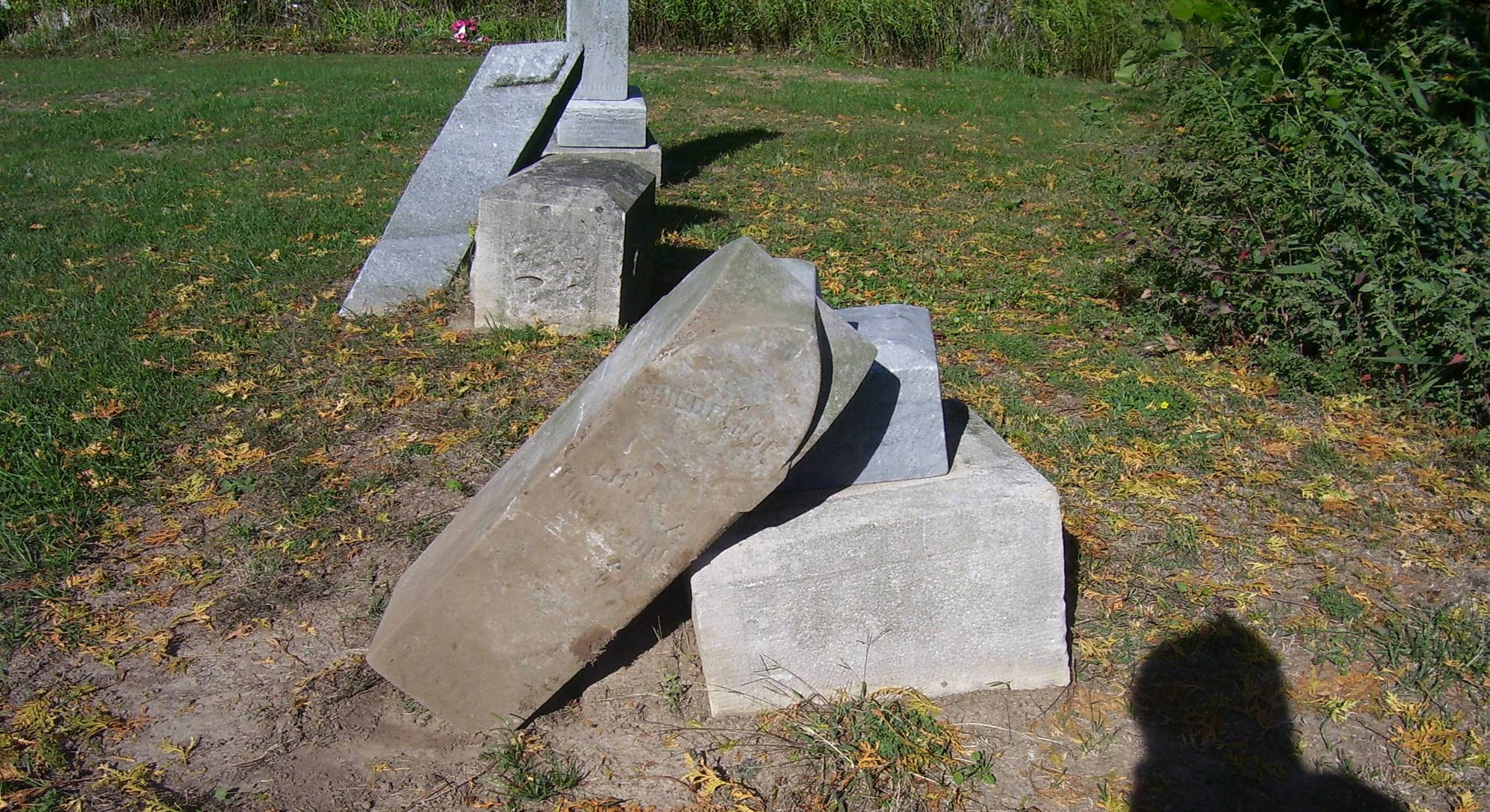 Hawk Cemetery
Hawk Cemetery is located near Palmer, Illinois in Bear Creek Township. Very little remains of this cemetery. Even less is known about it. It currently consists of a pile of marker "pieces" piled in the middle of a corn field. One slip of the plow and this, too, could disappear. Members of CCGS visited and photographed the remaining stones in late April, 2009. One exciting note, on the reverse of John Hawk's (large/heavy) stone, was the inscription for his wife, Margaret, that was previously not recorded. Photos from that day and transcription of the stones are contained on this page. This is all that remains of this little piece of Christian County's history. Photos by Joan Blood.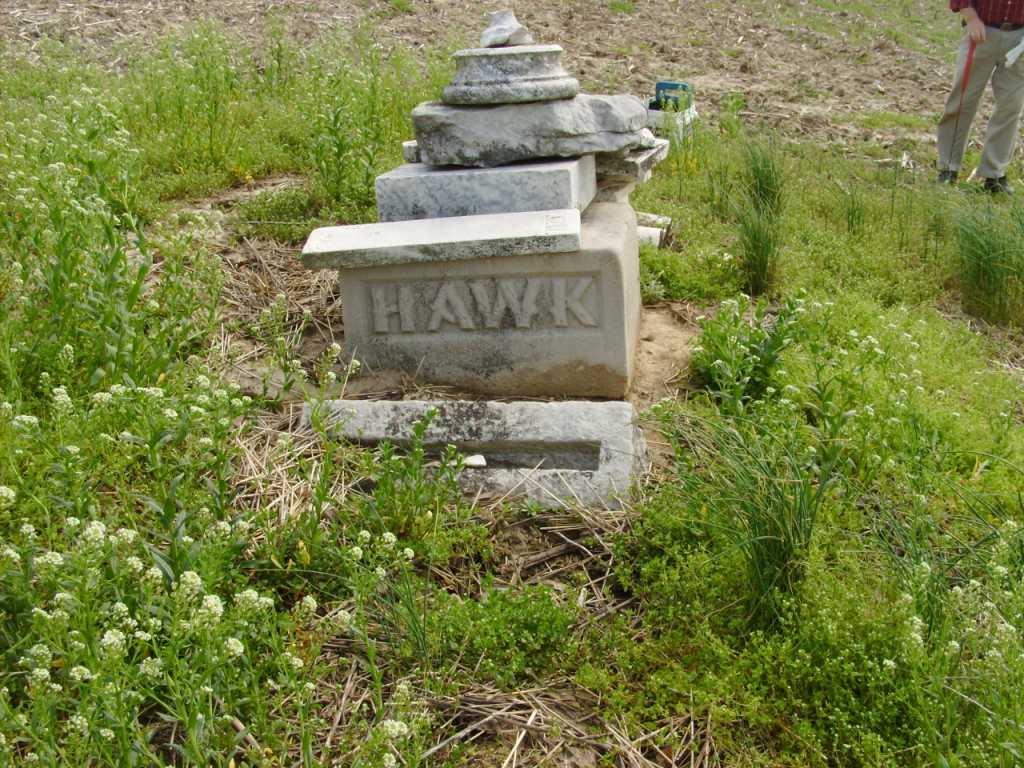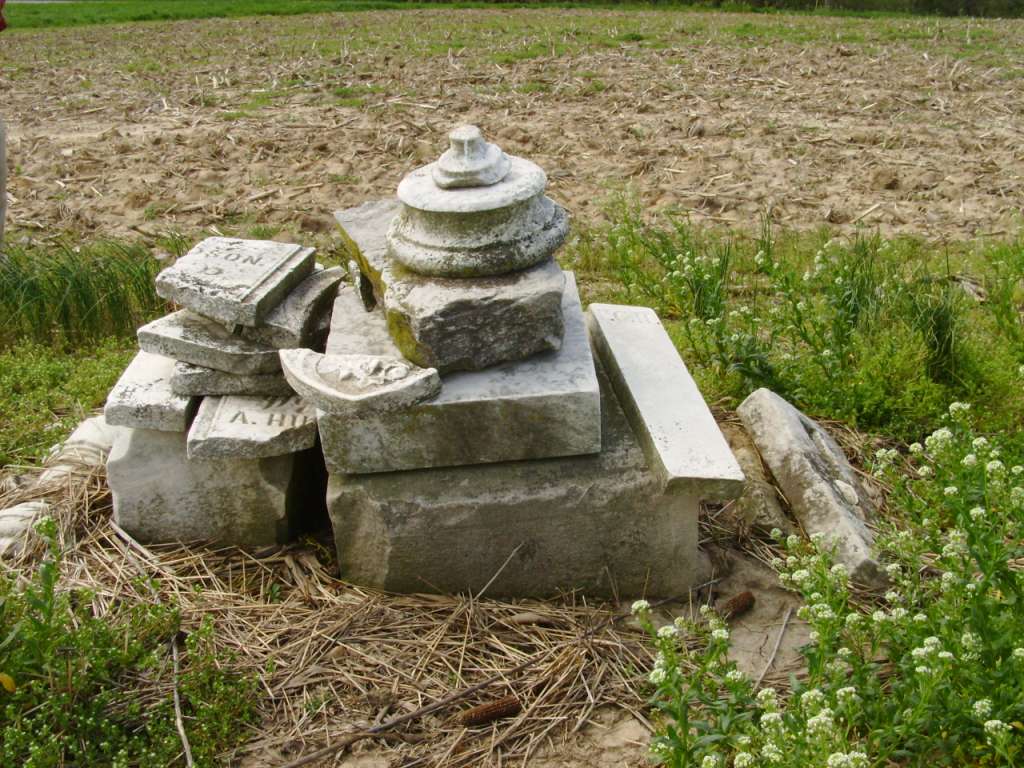 This large "Hawk" stone would have been the base of John & Margaret's monument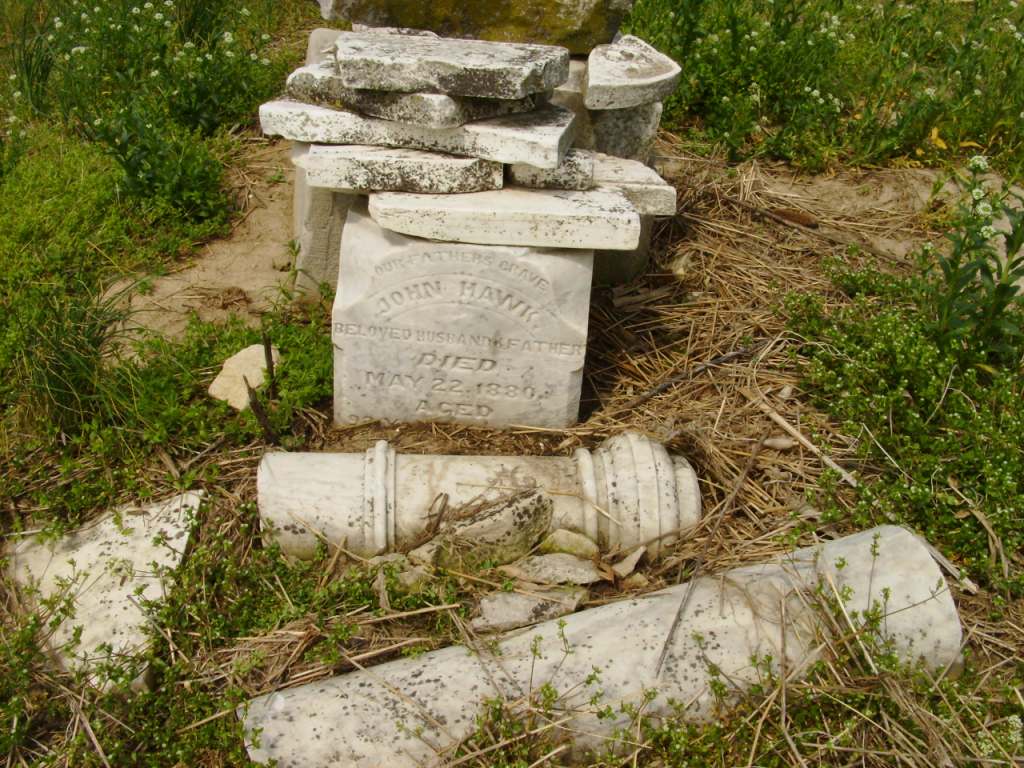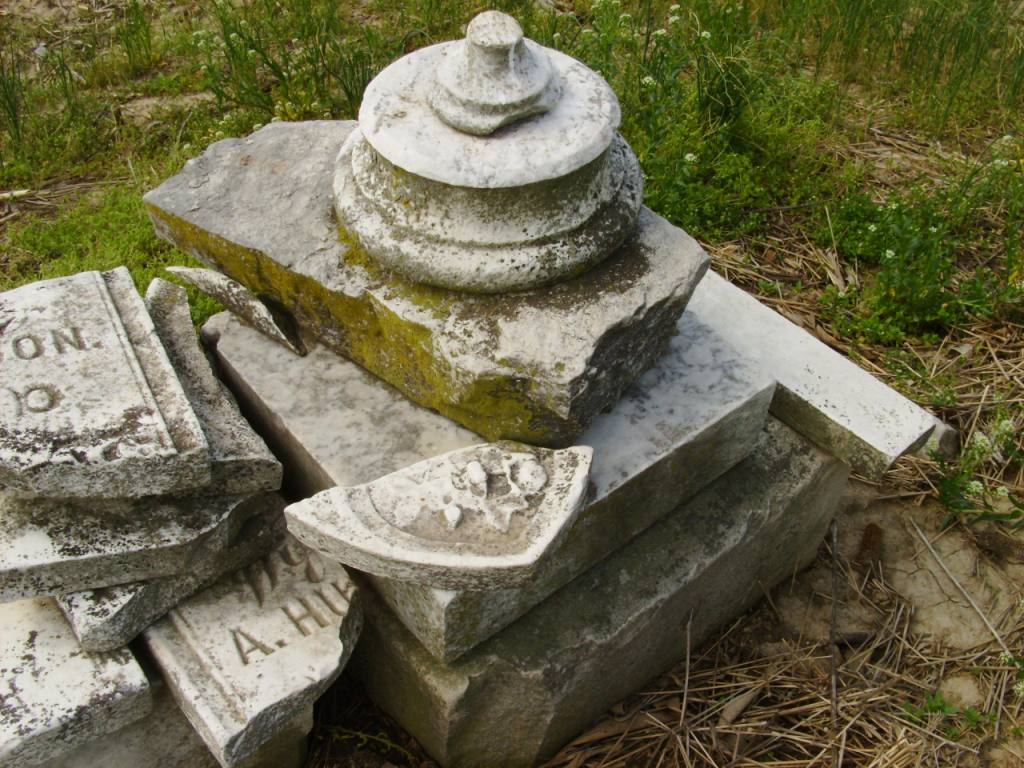 On the left, the large square with his information topped with the two cylindrical pieces seen here (more ornate piece on top). The "cap" shown on the right, topped off the Hawk monument.
"Our Father's Grave
Beloved Husband and Father."
Below the surface, the stone also reads:
"The Lord is my shield
Every word of God is pure
He is a shield unto them
That put their trust in Him."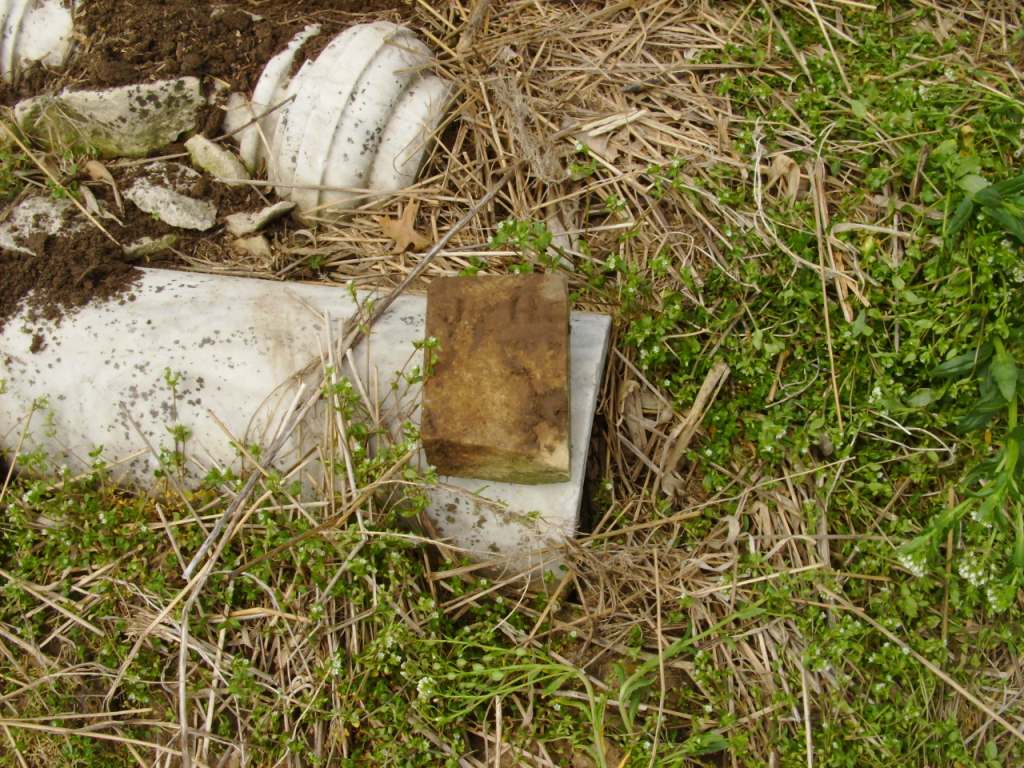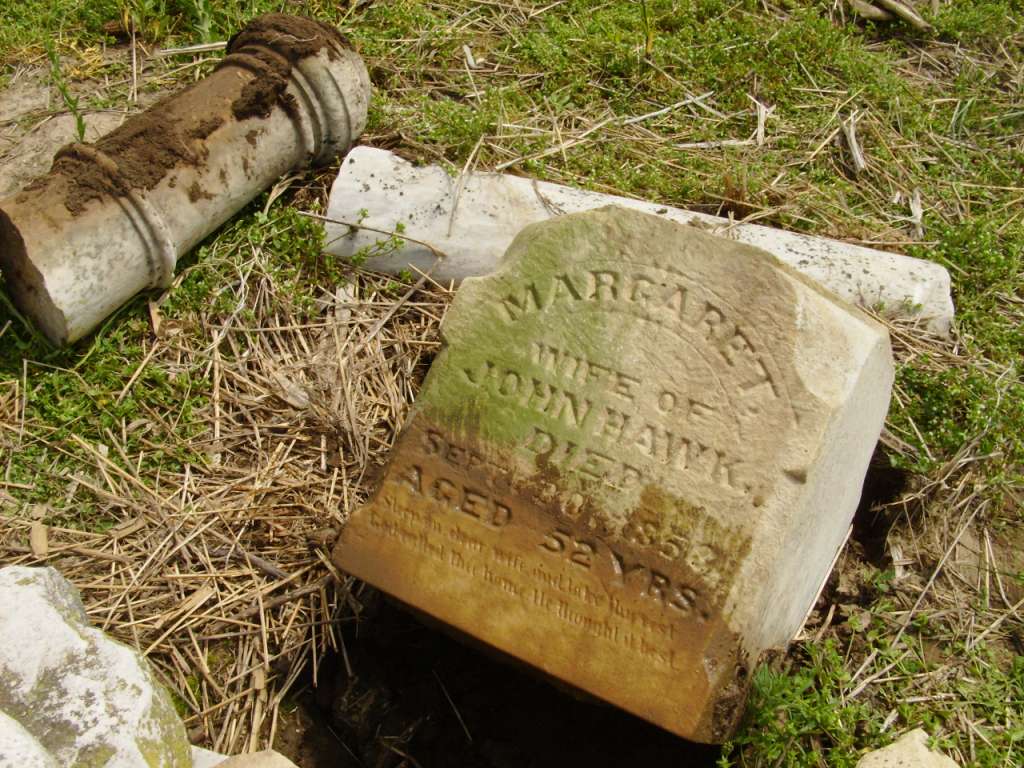 The darker stone on the left is a piece of his foot stone. Margaret's side of the stone (right) was against the base and previously unnoticed.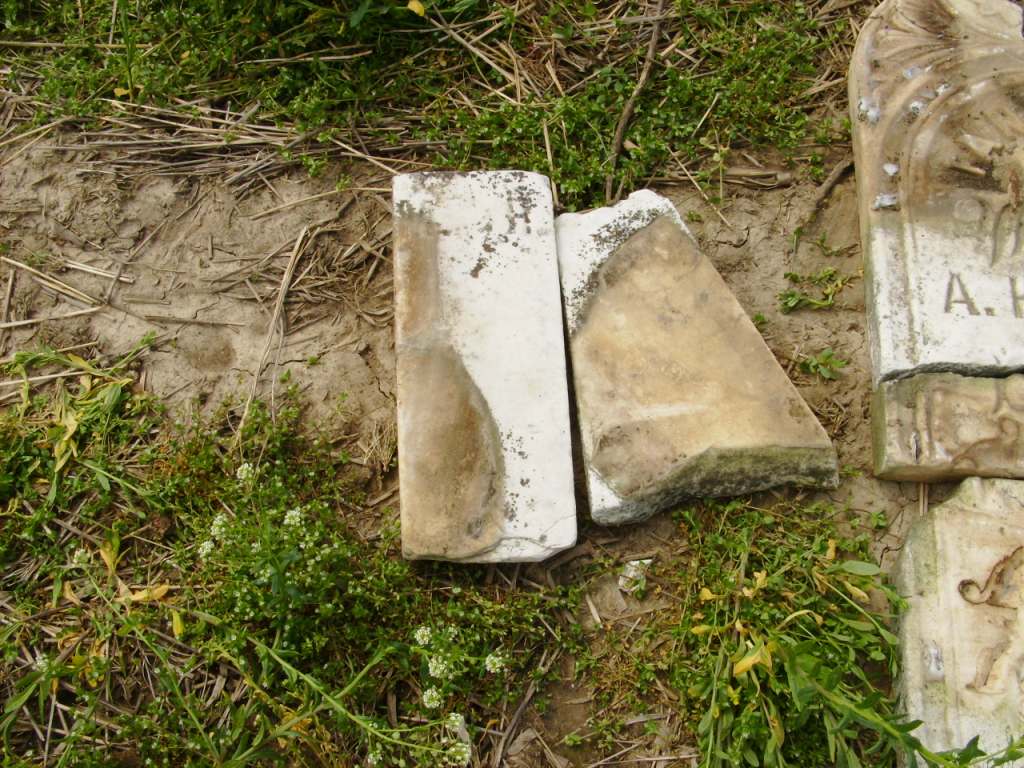 Margaret's foot stone: "God called Thee home, He thought it best."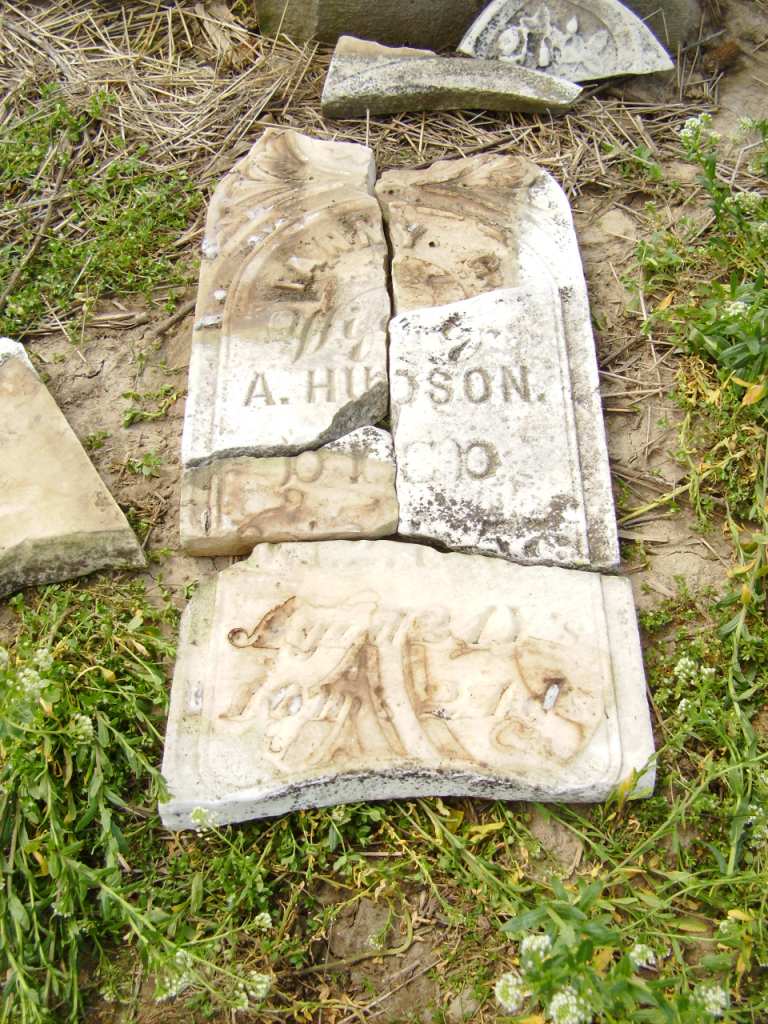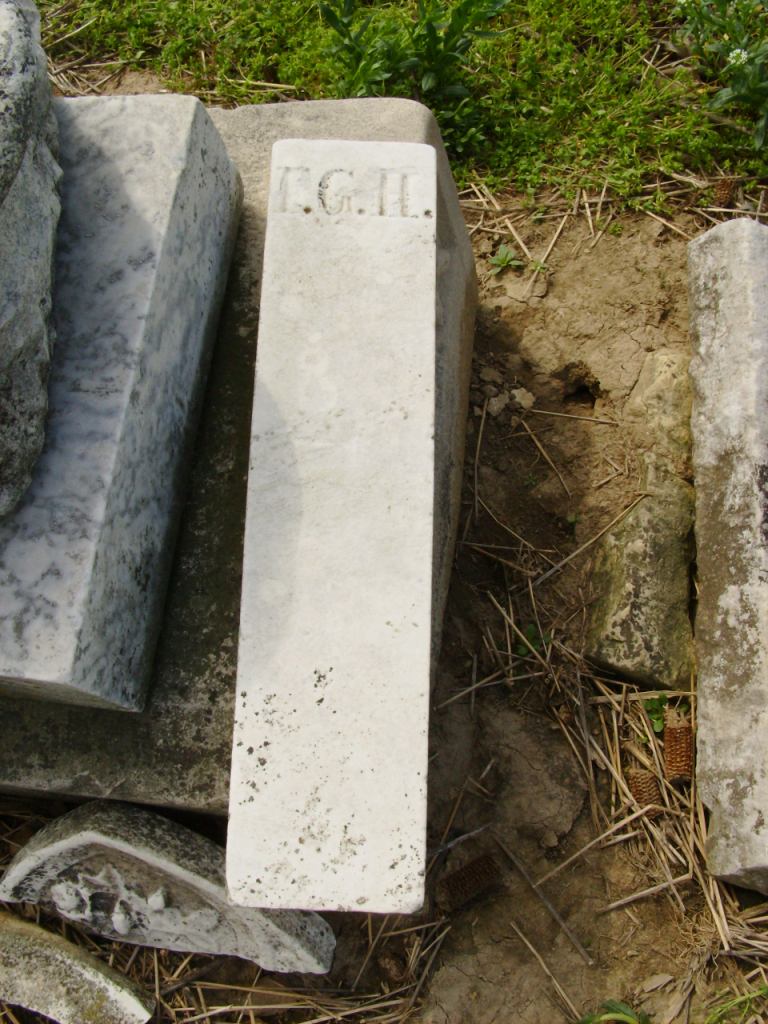 Fanny G. Hudson - before and after our jigsaw puzzle session.
Wife of A. Hudson
DIED
Oct 21 1857
Aged 21 Years
10 Months 21 Days

"Sleep on dear wife and take thy rest.
God called Thee home, He thought it best."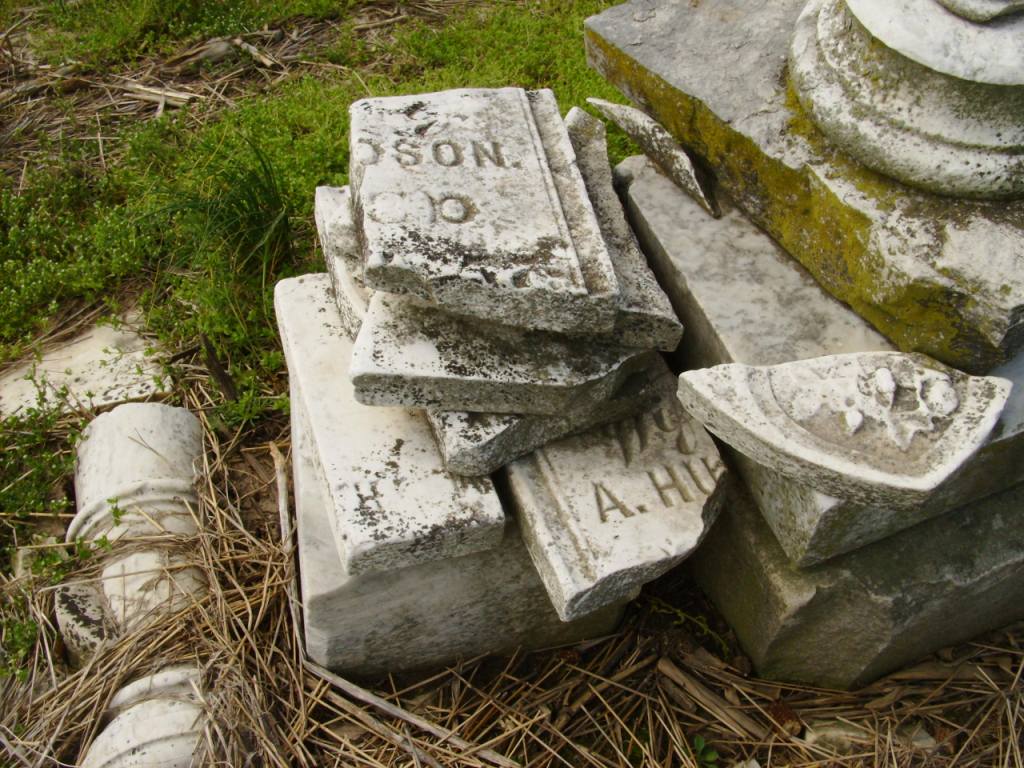 Fanny G. Hudson foot stone.